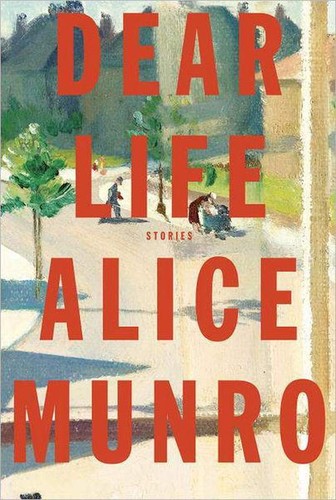 She looked for the more important man to help her, but he wasn't there. Now she remembered what he'd written. A play about Doukhobors that had caused a big row because the Doukhobors were going to have to be naked. Of course they weren't real Doukhobors, they were actors. And they were not allowed to be naked after all.
She tried explaining this to the man who helped her up, but he was plainly not interested. She asked what he wrote. He said he was not that kind of writer, he was a journalist. Visiting in this house with his son and daughter, grandchildren of the hosts. They — the children — had been passing out the drinks.
"Lethal," he said, referring to the drinks. "Criminal."
Now they were outside. She walked in her stocking feet across the grass, barely avoiding a puddle.
"Somebody has thrown up there," she told her escort.
"Indeed," he said, and settled her into a car. The outside air had altered her mood, from an unsettled elation to something within reach of embarrassment, even shame.
"North Vancouver," he said. She must have told him that. "Okay? We'll proceed. The Lions Gate."
She hoped he wouldn't ask what she was doing at the party. If she had to say she was a poet, her present situation, her overindulgence, would be taken as drearily typical. It wasn't dark out, but it was evening. They seemed to be headed in the right direction, along some water then over a bridge. The Burrard Street bridge. Then more traffic, she kept opening her eyes to trees passing by, then shutting them again without meaning to. She knew when the car stopped that it was too soon for them to be home. That is, at her home.
Those great leafy trees above them. You could not see any stars. But some shine on the water, between wherever they were and the city lights.
"Just sit and consider," he said.
She was enraptured by the word.
"Consider."
"How you're going to walk into the house, for instance. Can you manage dignified? Don't overdo it. Nonchalant? I presume you have a husband."
"I will have to thank you first for driving me home," she said. "So you will have to tell me your name."
He said that he had already told her that. Possibly twice. But once again, okay. Harris Bennett. Bennett. He was the son-in-law of the people who had given the party. Those were his children, passing out the drinks. He and they were visiting from Toronto. Was she satisfied?
"Do they have a mother?"
"Indeed they do. But she is in a hospital."
"I'm sorry."
"No need. It's quite a nice hospital. It's for mental problems. Or you might say emotional problems."
She hurried on to tell him that her husband was named Peter and that he was an engineer and that they had a daughter named Katy.
"Well that's very nice," he said, and started to back out.
On Lions Gate Bridge he said, "Excuse me for sounding how I did. I was thinking whether I would or wouldn't kiss you and I decided I wouldn't."
She thought he was saying that there was something about her that didn't quite measure up to being kissed. The mortification was like being slapped clean back into sobriety.
"Now when we get over the bridge do we go right on Marine Drive?" he continued. "I'll rely on you to tell me."
During the coming fall and winter and spring there was hardly a day when she didn't think of him. It was like having the very same dream the minute you fell asleep. She would lean her head against the back pillow of the sofa, thinking that she lay in his arms. You would not think that she'd remember his face but it would spring up in detail, the face of a creased and rather tired-looking, satirical, indoor sort of man. Nor was his body lacking, it was presented as reasonably worn but competent, and uniquely desirable.
She nearly wept with longing. Yet all this fantasy disappeared, went into hibernation when Peter came home. Daily affections sprang to the fore then, reliable as ever.
The dream was in fact a lot like the Vancouver weather — a dismal sort of longing, a rainy dreamy sadness, a weight that shifted round the heart.
So what about the rejection of kissing, that might seem an ungallant blow?
She simply cancelled it out. Forgot about it entirely.
And what about her poetry? Not a line, not a word. Not a hint that she had ever cared for it.
Of course she gave these fits houseroom mostly when Katy was napping. Sometimes she spoke his name out loud, she embraced idiocy. This followed by a scorching shame in which she despised herself. Idiocy indeed. Idiot.
Then a jolt came, the prospect then certainty of the job at Lund, the offer of the house in Toronto. A clear break in the weather, an access of boldness.
She found herself writing a letter. It didn't begin in any conventional way. No Dear Harris. No Remember me.
Writing this letter is like putting a note in a bottle —
And hoping
It will reach Japan.
Nearest thing to a poem in some time.